You can use this handbook to activate Apple CarPlay and Android Auto on Mib2 systems.
Supported platforms starting with the firmware:
Not supported:
HN+ / HN+R / Hnav / Bnav (for those units we do have external Apple CarPlay / Android Auto boxes)
MH2S / MHIG / MENT / MSTD
MMI 2G High (we do have external box which enable Apple CarPlay / Android Auto)
RMC
If you don't know how to check, please visit this page (click)
Supported areas:
Europe
RoW
USA
Japan
China
Taiwan
Requirements
Two USB ports are required in the armrest/glovebox area of the vehicle. If your vehicle isn't equipped, you must do so for CarPlay and Android Auto to function.
If your car has two USB ports, you can skip this.
The two USB ports you can find here
Remove central console (youtube tutorial how to do that)
Taking off the back vents is not a philosophy. It pops up when we pry on it from the side.
By removing a few screws from the console's side and the cube, we can remove the glove box.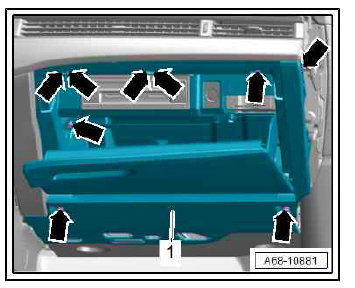 Four screws are required to remove the left side of the console after removing the cover under the steering wheel.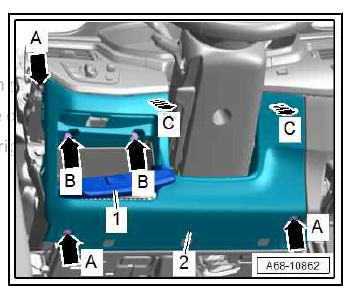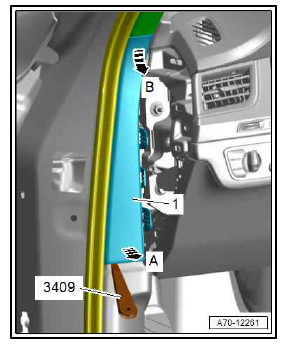 The handle for opening the bonnet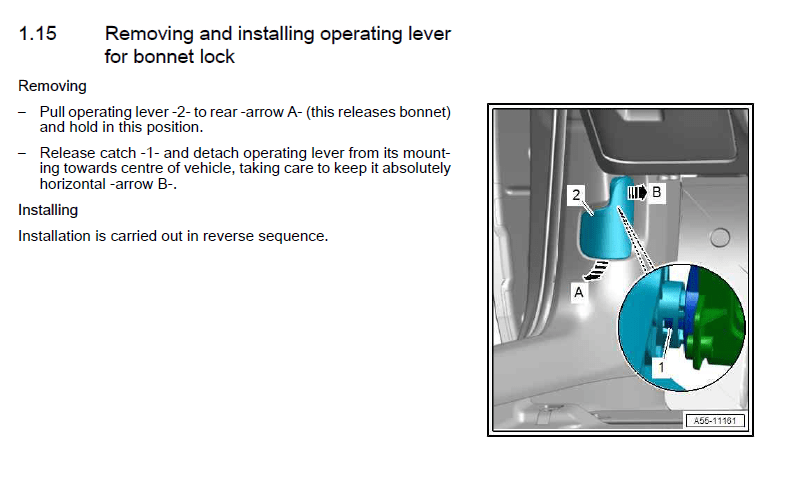 The sill cover can then be removed.
According to the attached directions, we run the cables. For the multimedia component, there will be two dice, and only one on the left. The pink one is optional since we want to have a backlight for the electric module, and T54c cube (smallest) pin 1 of the brown one is best captured at the ground point under the carpet under the removed sill cover. The red one is plugged into the fuse box in the side of the console (pins are numbered in cubes).
Software upgrade
Making a firmware upgrade is crucial since newer firmwares imply Apple CarPlay and Android Auto are more stable!
The supported firmware list can be found below. Make the right decision! Once more, if you are unsure of the firmware on your device, please consult this documentation (click).
Supported firmware versions
The script only supports certain firmware. You must upgrade first if you don't have that firmware.
MHI2Q_CN_AUG22_K1004_MU1003
MHI2Q_CN_AUG22_P0915_MU0915
MHI2Q_CN_AUG22_P1002_MU1002
MHI2Q_ER_AUG22_P3638_MU0916
MHI2Q_ER_AUG22_P3638_MU0917
MHI2Q_ER_AUG22_P4170_MU1117
MHI2Q_ER_AUG22_P4212_MU1177
MHI2Q_ER_AUG22_P5092_MU1329
MHI2Q_ER_AUG22_P5152_MU1329
MHI2Q_JP_AUG22_P1017_MU1017
MHI2Q_KR_AUG22_P1018_MU1018
MHI2Q_US_AUG22_P4171_MU1118
MHI2Q_US_AUG22_P4213_MU1178
MHI2Q_US_AUG22_P4246_MU1320
MHI2Q_US_AUG22_P5087_MU1316
MHI2_CN_AU276_P1214_MU1214
MHI2_CN_AU276_P1215_MU1215
MHI2_CN_AU57x_K1006_MU1005
MHI2_CN_AU57x_P0623_MU0623
MHI2_CN_AU57x_S0037_1_MU0037
MHI2_CN_AUG22_K0730_MU0729
MHI2_CN_AUG22_P0618_MU0618
MHI2_CN_AUG22_S0038_MU0038
MHI2_CN_AUG22_S0039_MU0039
MHI2_ER_AU276_P5088_MU1325
MHI2_ER_AU276_P5502_MU1460
MHI2_ER_AU276_P5506_MU1466
MHI2_ER_AU276_P5509_MU1474
MHI2_ER_AU276_P5510_MU1477
MHI2_ER_AU276_P5515_MU1488
MHI2_ER_AU37x_P3620_MU0875
MHI2_ER_AU37x_P4159_MU1106
MHI2_ER_AU37x_P4203_MU1168
MHI2_ER_AU37x_P5089_MU1326
MHI2_ER_AU37x_P5153_MU1326
MHI2_ER_AU43x_P5098_MU1339
MHI2_ER_AU43x_P5151_MU1339
MHI2_ER_AU43x_P5404_MU1479
MHI2_ER_AU43x_P5406_MU1489
MHI2_ER_AU57x_K2589_MU1429
MHI2_ER_AU57x_K3663_MU1425
MHI2_ER_AU57x_P3236_MU0670
MHI2_ER_AU57x_P3634_MU0910
MHI2_ER_AU57x_S2519_MU0389
MHI2_ER_AU62x_P5099_MU1340
MHI2_ER_AUG22_K2161_MU1421
MHI2_ER_AUG22_K3344_MU1438
MHI2_ER_AUG22_K3346_MU1438
MHI2_ER_AUG22_P3241_MU0678
MHI2_ER_AUG22_S2148_MU0442
MHI2_JP_AU43x_P0902_MU0902
MHI2_JP_AU62x_P0701_MU0616
MHI2_JP_AUG22_P0713_MU0713
MHI2_KR_AU37x_P0901_MU0818
MHI2_KR_AU57x_P0901_MU0615
MHI2_KR_AU57x_S0035_MU0035
MHI2_KR_AUG24_S0008_MU0008
MHI2_TW_AU37x_P0901_MU0816
MHI2_US_AU276_P5083_MU1312
MHI2_US_AU37x_K5512_1_MU1484
MHI2_US_AU37x_P5107_MU1363
MHI2_US_AU43x_K1083_MU1412
MHI2_US_AU43x_P5124_MU1389
MHI2_US_AU43x_P5180_MU1462
MHI2_US_AU57x_K3324_1_MU0925
MHI2_US_AU57x_K3341_MU1426
MHI2_US_AU62x_K2588_MU1407
MHI2_US_AU62x_P5125_MU1390
MHI2_US_AU62x_P5181_MU1463
MHI2_US_AUG22_K3345_MU1439
MHI2_US_AUG22_K3347_MU1439
Europe / Australia & New Zealand / Middle East / RoW / Singapore / South Africa
MHI2_ER_AUG22_K3344
MHI2Q_ER_AUG22_P5092
MHI2_ER_AU57x_K3663 – this one have already included Apple CarPlay / Android auto!
USA / Canada
MHI2_US_AUG22_K3347
MHI2Q_US_AUG22_P5087
There is a handbook on how to update firmware, which is quite similar to MMI 3G and is fairly simple (on schemes looks on to Mib schemes).
Set up SD with the script.
You must first obtain the script, which you can do by clicking here (click).
Once downloaded, please open the Mib2Patch.zip file.
Prepare the SD CARD now.
I do advise using at least an 8GB SD card (script require smaller, but not every MMI want to read it).
Make sure your SD CARD is formatted as FAT32.
Go to the unpacked folder now to see a list similar to this: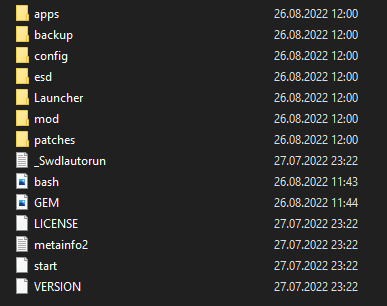 Copy all selected files directly to an SD CARD. Make sure that all of the aforementioned files are visible when you access your SD directly; they cannot be in any parent folders.
and can leap to the vehicle 🙂
How to set up the script
Start your automobile when you get in and let it run for five to ten minutes before getting in.
Insert an SD card into Slot 1; the script ought to launch automatically after 60 seconds.
The device will restart in SWDL mode for FW updates.
The device may momentarily inform you via a message on the screen that the system is either preparing for installation or is not (yet) ready for installation.
Simply wait for the reboot; this is usual.
⚠️ Do NOT remove SD card
The boot screen and several update-related windows will appear briefly before the screen goes black.
The entire process will about 5 to 10 minutes.
Basic unit backups will already have been made during M.I.B. installation.
You will see a summary of the installed packages once installation is complete, with Y(es) next to any completed packages (only Launcher in case of M.I.B install).
Go back on that screen/exit the screen.
The next Screen will present something like this: "Start diagnostic tester: Main unit/version…".
Press CANCEL
After installing M.I.B, you can see a Software Version Management Error (SVM) in 5F through OBD. Run this script's "SVM fix" function to get rid of it.
How to access the newly added hidden menu
You must enter GEM after M.I.B installation is complete and the device has booted.
Please be aware that GEM takes a while to become accessible following a cold boot of the device; this can take up to five minutes.
To enter GEM, use the key combinations that are appropriate for your unit.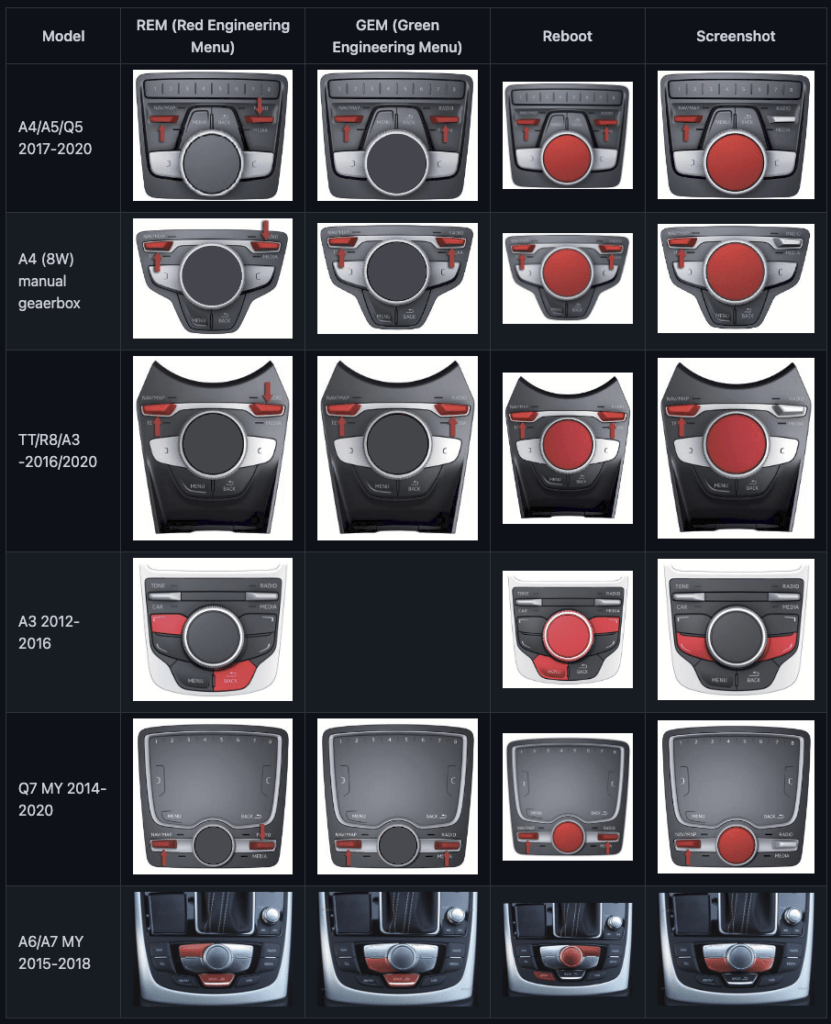 Enter "mib" on the following screen and make a backup first! Go to the backup tab and adhere to the directions.
Then IFS-root patch -> Flash patched image – the unit should reboot after completion, so we enter the green menu again – select M.I.B. and then Patch IFS-Root-AIO . Reboot the unit and the Android auto / Apple CarPlay should rock. The SD card can be removed.
Map update
The unit patch mentioned above removes the necessary FEC code, adding a lifetime map license to your unit.
We have updated maps for:
Europe  here
ROW ( Argentina, Australia, Bahrain, Botswana, Brazil, Brunei, Chile, Indonesia, Israel, Jordan, Kuwait, Lesotho, Malaysia, Mexico, Mozambique, Namibia, New Zealand, Oman, Philippines, Qatar, Reunion, Saudi Arabia, Singapore, South Africa, Swaziland, Thailand, Turkey*, United Arab Emirates, *partially) here
Here is a link to a documentation on installing map updates (click)
Since Apple CarPlay and Android Auto require a wired connection, you must plug your phone into a USB port (hence, you must have two USB ports because only one of them will function).