I'll demonstrate how to upgrade the firmware on Mib2 devices here.
To begin with, you must identify your unit. This can be accomplished by verifying the proper firmware version.
The best option is to check the current firmware version on the Red Engineering Menu (REM).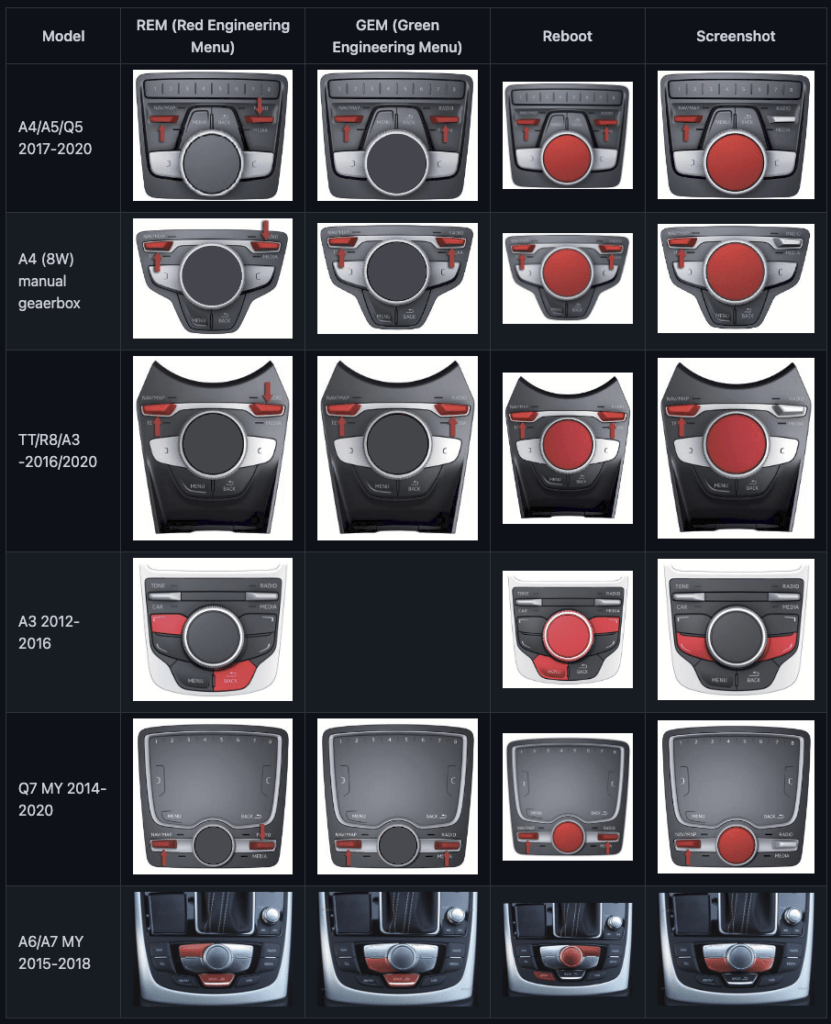 Please select your automobile and REM combo from the above table.
Please keep in mind that you may need to wait a few minutes after starting your car for all systems to come online and be ready to use before you can enter REM or GEM.
the primary menu
To enter REM, press and hold the appropriate combination.
Scroll down and enter the Version information when you are at the Red Engineering Menu (REM).
Your current firmware version will be displayed under current version.
This guide is for you if you have MHI2 or MHI2Q!
Do not mix firmware versions. In other words, if your vehicle has MHI2 ER AUG22 xxx, you cannot install MHI2 ER AUG35 or MHI2Q ER AUG22; instead, you must pay attention to the first type MHI2/MHI2Q and AUG/AU57.
Then:
If you have MHI2 ER AUG22 to MHI2 ER AU57x, you can modify MHI2 ER AUG22 P0010 to MHI2 ER AUG22 K3344 only in Audi A6/A7/A8.
If you're concerned about selecting the right firmware, give us a version of your existing firmware, and we'll send you the appropriate links.
How should I handle files?
There are only a few pieces after you download all the files (mostly 4 or 5 7z parts.).
Make sure all your files are in the same location (for example Mib2 firmware folder).
You will need the 7zip program to unpack files; you can download it for free from 7zip.org.
Go to the firmware files once 7zip has been installed. Right-click the first file (whose extension is 7z.001) and choose Extract to "filename"

This might take some time to unpack the files.
Afterward, you may begin setting up SD CARD.
How to be ready for the Mib2 firmware update with SD CARD
You can use an 8 or 16GB SD CARD because a firmware upgrade typically uses roughly 4GB of storage space.
If the SD CARD is not formatted as FAT32, MMI might not be able to read it.
Please look here if you are a macOS user (click)
Once your SD CARD has been formatted to FAT32, you must now copy files to the SD.
To do that, open newly unpacked files; a new folder with files inside should appear:

The only thing left to do is to select all of those files (1, 2 metainfo2) and immediately copy them to an SD card.
A PARENT FOLDER MUST NOT BE USED; THOSE FILES MUST BE DIRECTLY ON SD. YOU MUST VIEW THE ABOVE FILES DIRECTLY WHEN YOU ENTER SD
Depending on how quickly your SD CARD is, this operation could take up to 15 minutes. When you've finished shifting files, get in your car (do not forget to take your SD with files).
Audi MMI Mib2 firmware update
Start your car's engine once you are inside and wait for 5 to 10 minutes. You might not be able to enter REM if not all systems are operational (Red Engineering Menu).
If you have bose audio system please do this first!
If you have bought this bundle pack (click) or this firmware which have apple carplay / android auto activation (click) you can skip this step – bose has been disabled by default.
You can use fibre optic loop part no.: 4E0973802 / 4E0 973 802
you need to locate Bose amplifier in boot, disconnect cable and connect this loop to the cable disconnected from bose amplifier.
You can also try enter Green engineering menu (GEM) go to the swdl and tick the User defined mode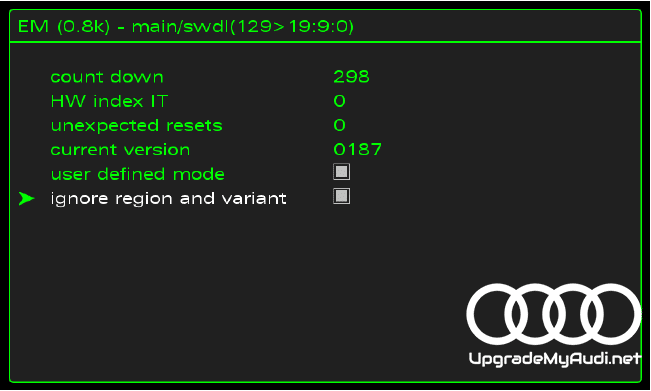 Place the SD CARD containing the firmware upgrade in the SD1 slot.
then start your REM (Red Engineering Menu)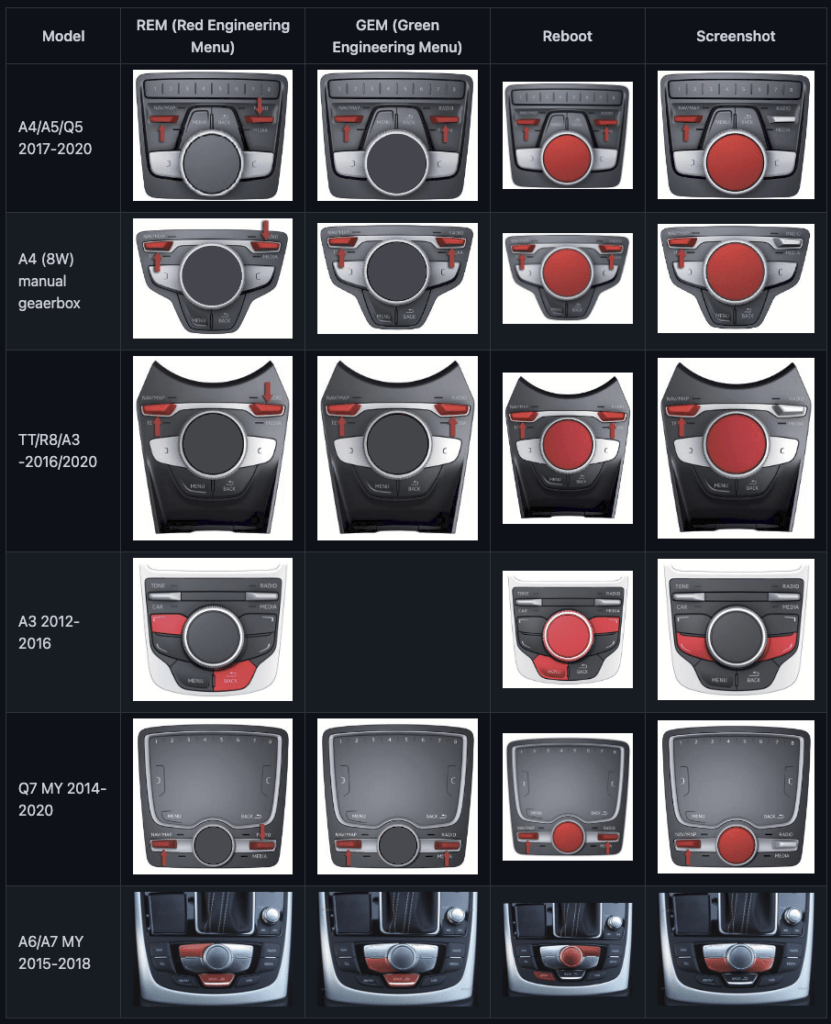 But now you must choose the Update option.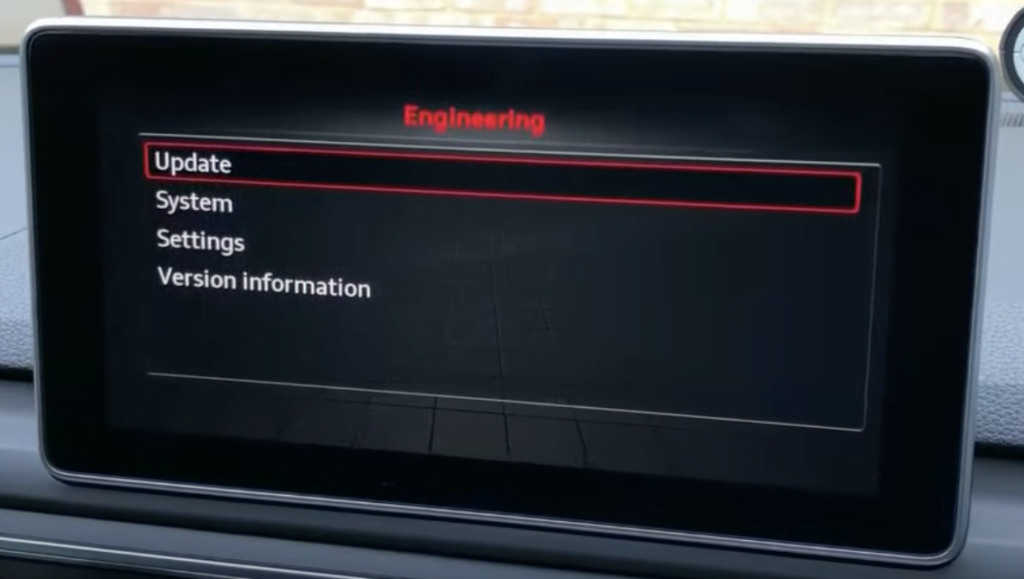 pick on another screen an SD Card1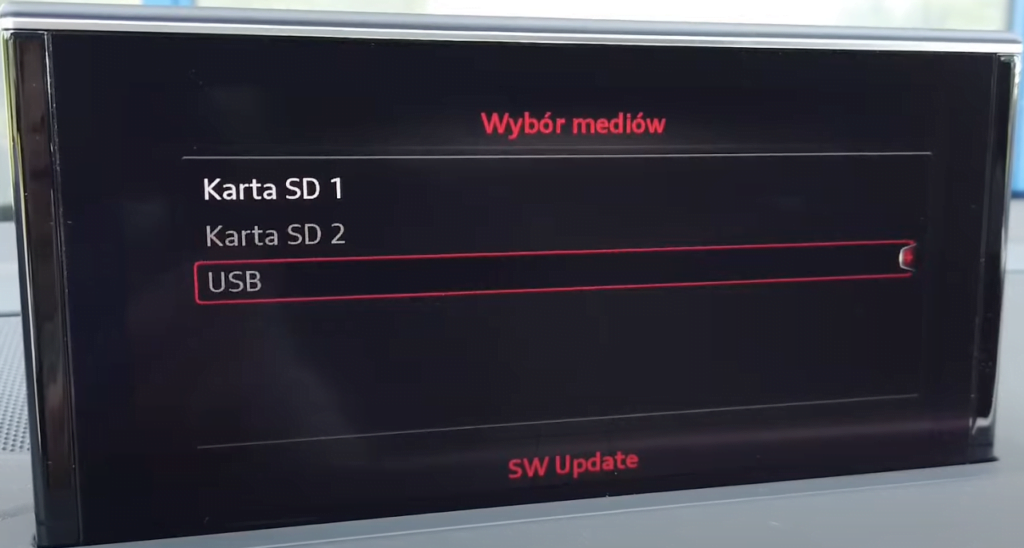 MMI will now scan the SD CARD and, if it has been properly prepared, provide the firmware update on another screen.
When using a Bose audio system (for standard audi audio do not need to do this)
Select User Defined on the following screen, then on the list that appears, attempt to find BoseG3 Q7 or BoseG3_ or BSG3C7 ANC or BO Q7 / BO D4 / BO C7 / AMP LC P (depending on the car type you own, always starting with BSG/Bose/BO), then remove each checkmark until a letter N appears next to Bose. To accomplish this, you must enter this item and modify all things close to it in all second rows to N. Finally, N should be positioned close to Bose.
Don't forget to make it; it's crucial. and select Download to begin.
The updating procedure will take 20 to 30 minutes. Never turn off the car or leave it unattended. Simply wait.
MMI will automatically reboot a few times.
after that process its completed.