Unleash the full potential of your Audi TT equipped with Virtual Cockpit by activating Apple CarPlay and Android Auto. Our comprehensive guide offers detailed, step-by-step instructions to seamlessly integrate your smartphone with the advanced infotainment system of your Audi TT.
Notable Features:
Apple CarPlay Integration: Discover how to enable Apple CarPlay in your Audi TT, granting you access to your favorite applications, navigation, and music through the Virtual Cockpit display.
Android Auto Integration: Explore the necessary steps to activate Android Auto, enabling convenient hands-free calling, messaging, music streaming, and more via your Audi TT's infotainment system.
Seamless Integration: Follow our user-friendly instructions to effortlessly connect your smartphone to the Virtual Cockpit, ensuring a smooth and intuitive experience.
With our comprehensive guide, you'll be empowered to harness the power of Apple CarPlay and Android Auto, effectively transforming your Audi TT into a connected and intelligent vehicle.
Required Tools:
Requirements:
Firmware P5098
Virtual Cockpit version 0296 or higher (To check, use OBD11 and navigate to unit 17 for information on VC version and software version. If your number is lower than 0296, you'll require an update; click here)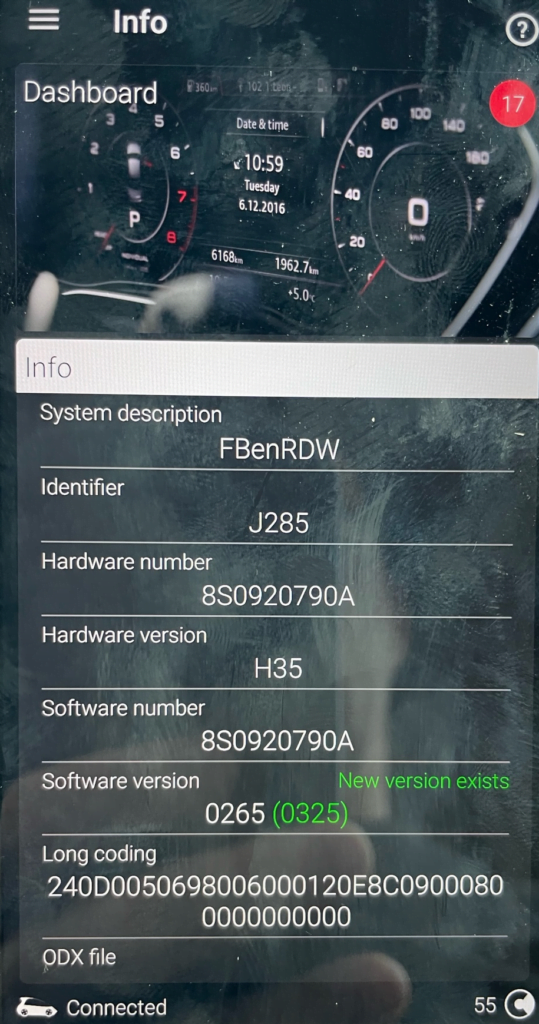 To code CarPlay / Android Auto icons to be displayed on the MMI screen (carplay might still work even if they are not available there), you'll need OBD11.
Installation Process:
MMI Firmware: To begin, ensure that your MMI firmware version is P5098. For detailed installation instructions, please refer to the comprehensive manual provided (click here).
Virtual Cockpit Update: The installation process for the Virtual Cockpit update is similar to that of the firmware update. However, you may encounter an error message such as "error FPK:0 error code 142" or a similar prompt. When prompted to start the update, place the remote key in the proximity area near the side of the steering wheel to enable remote key reading. This step is necessary to confirm the presence of the remote key. Once completed, you can proceed to the next step.
MMI Patching: Now, the MMI requires patching using the provided script. Refer to the detailed instructions available in the manual (click here) for a step-by-step walkthrough.
OBD11 / VCDS Coding: The final step involves coding the MMI, as the Audi Smartphone Interface may not appear in the MMI menu without this step. Follow these instructions to code the MMI successfully:

Module: 5F (Information Control Unit)
Adaptation
Vehicle Configuration
MirrorLink = On
WiFi_Client_HMI = On
Apple_DIO_Wireless = On
wlan_5ghz_switch = Activated
Apple_DIO = On
Reboot the MMI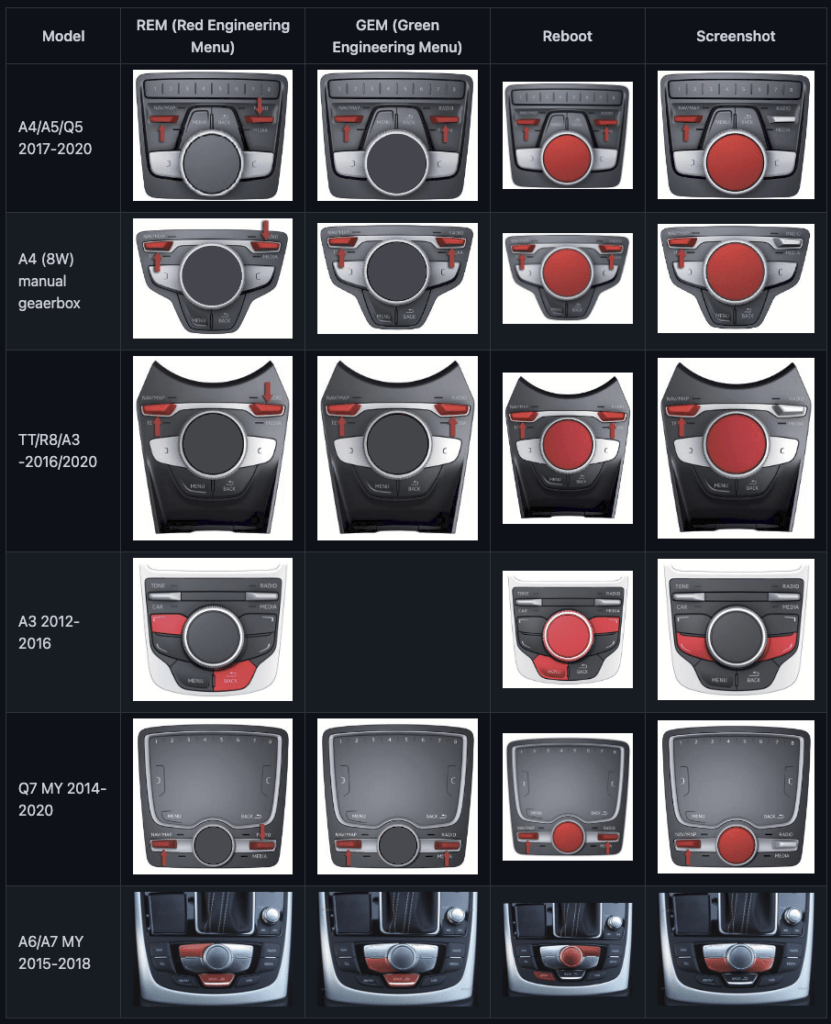 How to Access REM or GEM in Mib2: By following the steps outlined above, you can now enjoy the new and enhanced functionality offered by your Audi TT.