In most circumstances, you don't need to recode your old battery when you replace it with one that is identical to the one you had before. However, the battery regulating module in most cars could be slightly puzzled by the new battery for unknown reasons.
In most cars, the battery regulating module only measures the amount of power that is consumed and the amount of power that is delivered (charged) to the battery. This means that when you replace your battery with a new one, it may have a different capacity of power.
In my view, you should always recode it when changing batteries.
Also keep in mind that before installing a replacement battery in a car and beginning any coding, make sure it is fully charged.
How do I code an Audi new battery?
You'll need VCDS, the VAO code from the new battery, and the serial number to do this. Only when you purchase a battery from an Audi service will you receive a VAO code; we have a list of frequent codes you can use in VCDS.
You need to visit the in cars with battery regulating modules for:
[61 – Battery Regulation] in some cars it might be also in [09 – Cent. Elect.] or in Gateway – so if you don't have Battery regulation try to find them in other modules.
[Coding – 07]
[battery Coding Assistant]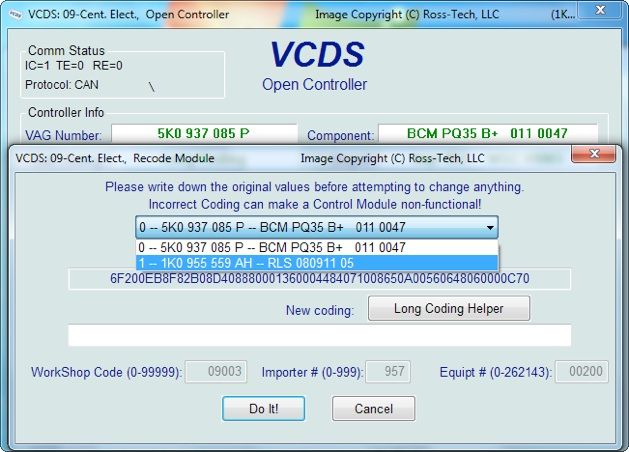 Choose the second choice, which is your battery, from this menu.
Enter the new Battery Part Number (10 or 11 digits).
Enter the new Battery Serial Number (10 digits).
Select the new Battery Vendor.
[OK]
[Do it!]
[Close Controller, Go Back – 06]
Done.
How can I obtain the part and serial numbers for batteries?
Some batteries had stickers on them.
In this instance, the VAO is a serial number, and the product number is located above the VAO.
However, not all battery brands had those numbers printed on their products.
You can try to code from a list of common batteries and their codes.
51Ah – 8K0915105J / 000915105BB / 000915105DC
60Ah – 4F0915105 / 8K0915105G / 000915105DD
61Ah – 8K0915105H / 000915105AD / 000915105DE
70Ah – 4F0915105A / 8K0915105C / 000915105DF
72Ah – 8K0915105B / 000915105AF / 000915105DG
80Ah – 4F0915105B / 8K0915105D / 000915105AG / 4FD915105 / 8KD915105 / 000915105DH
95Ah – 4F0915105C / 8K0915105E / 000915105AH / 000915105DK
110Ah – 4F0915105D / 8K0915105F / 000915105AK / 8KD915105A / 000915105DL
68Ah – (AGM) 7L0915105 / 000915105CC
75Ah – (AGM) 3D0915105H / 000915105CD
92Ah – (AGM) 4F0915105E / 000915105CE
105Ah – (AGM) 4L0915105 / 000915105CF
115Ah – 4H0915105 / 000915105DM
Part number / Serial number
You can share in the comments where and with which automobile you found battery regulation.